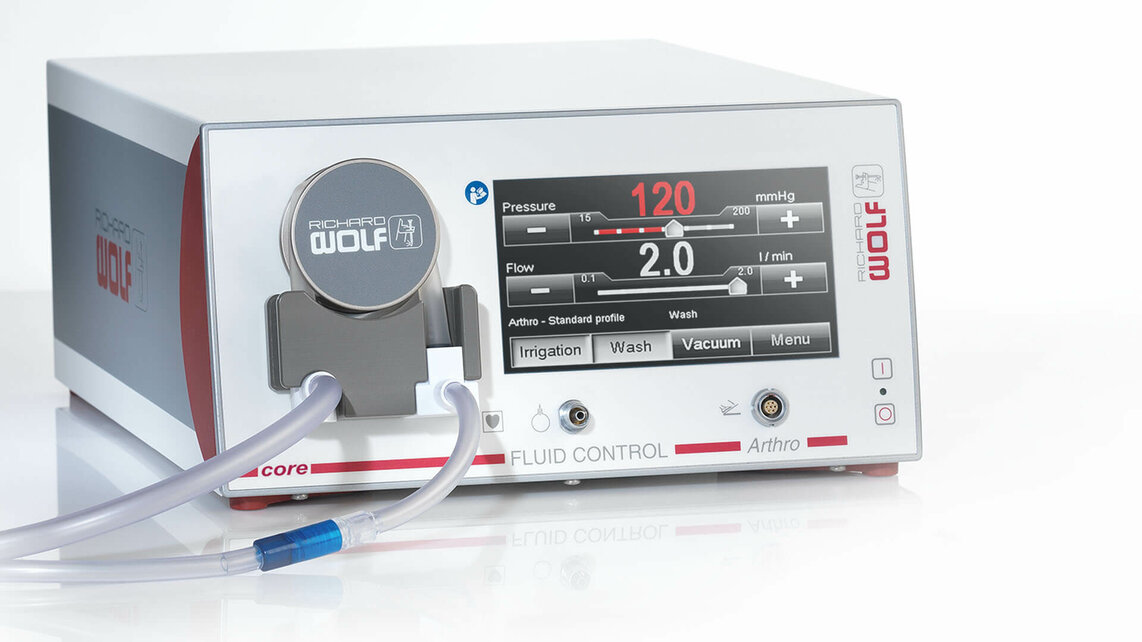 FLUID CONTROL Arthro is a new pump system for arthroscopic endoscopy and full-endoscopic spine surgery. The particular strength of this system lies in a particular combination of high performance and costeffective overall concept. The new software and technical enhancements make FLUID CONTROL Arthro ideal for diagnostic and therapeutic interventions.
The particularly refined control quickly equalizes the pressure but also recognizes abrupt interruptions in the irrigation flow, for example by closing the stopcock on the endoscope. Optical and acoustic alerts are given when critical overpressures occur.
The spectacularly safe flow control SPINE MODE is specially developed for use in full-endoscopic spine surgery and guarantees the highest safety for pressure inside the spinal canal:
Optimum endoscopic visualization of the spinal canal and disk space
Improved safety through continuous pressure monitoring and overpressure control
Standardized application profiles for VERTEBRIS instrument systems
Low consumption of irrigation fluid through optimally regulated flow performance
FLUID CONTROL Arthro keeps track of components. The system is fitted with inteligent transponder technology. This automatically recognizes whether the tube is a system-compatible Richard Wolf tube, the tube type and the number of applications still permitted.
Single genius - Ingeniously doubled
FLUID CONTROL Arthro combines the irrigation and suction pump in a single unit. A vacuum pump is integrated alongside the roller pump for irrigation. This makes significant cost savings.
Comprehensive user comfort
The new equipment design with sloping front panel makes the large touchscreen conveniently accessible.
Questions?
We are ready to help!
AVANA Surgical System Pvt Ltd.