Pioneering endoscopic spine surgery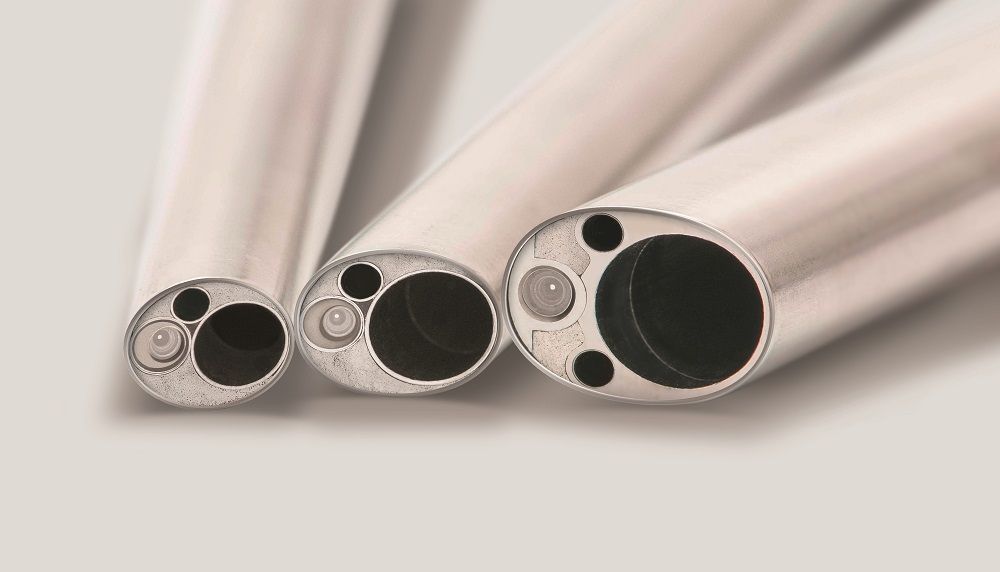 Richard Wolf has long been the leader in pioneering full-endoscopic spine surgery with the development of specialized instrumentation and standardized techniques, coupled with enabling technologies such as high resolution endoscopes and HD imaging systems.
"Minimally invasive" has been the accepted trend in spine surgery for years, with the greatest challenge always being the visualization of the anatomy through ever shrinking incisions. One incarnation of MIS spine surgery employs a tubular retractor in conjunction with various imaging modalities, including loupes, microscope and in some cases a small endoscope on the periphery of the tube.
The next major step forward in MIS spine surgery occurred with the availability of an endoscope containing an integrated working channel. This modern spine endoscope design allows instruments to pass through the body of the endoscope in immediate proximity to a high definition rod lens optic system. In 1998, Richard Wolf, in collaboration with Dr. Anthony Yeung, released a working channel endoscope with associated instruments and clearly defined techniques that represented the first comprehensive system for spine endoscopy: the YESS system. In subsequent years,
Dr. Sebastian Ruetten and his colleagues expanded the full-endoscopic concept with the development of new surgical approaches and specialized instrumentation, standardized techniques, clinical studies*, and educational programs.
(* citations available upon request)
What are full-endoscopic operating techniques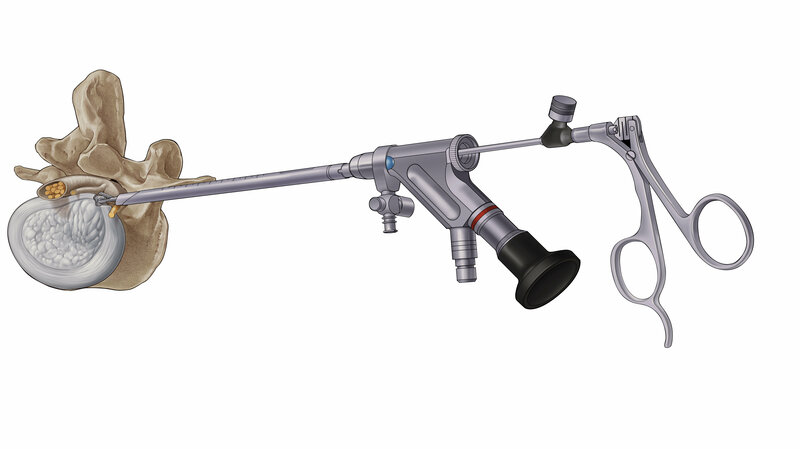 Full-endoscopic surgical techniques represent a major milestone in the evolution of minimally invasive spine surgery. Because of the technological advancements in endoscopic imaging (rod-lens optics, 4K cameras and monitors) and the miniaturization of endoscopic instrumentation, it is possible to perform surgery through access ports less than 1 cm in diameter, which is significantly smaller than in previous MIS approaches. This allows for a significant reduction in access trauma and recovery time.
In full-endoscopic surgery, the entire procedure is carried out under direct visualization using an endoscope. Instruments inserted through the working channel operate on the pathology while being observed in real time on a display monitor. Continuous irrigation through the endoscope provides high image quality by continuously flushing the lens to remove blood and tissue. This ensures that all instrument manipulations can be directly controlled and promotes high level of safety and effectiveness.
The combination of a small access sleeve and continuous direct visualization provides "full-endoscopic" procedures with a clear differentiation from open procedures which involve a large incision and from percutaneous procedures which are performed under indirect visualization (i.e., fluoroscopy). During a full-endoscopic procedure, the manipulation of the anatomy is performed entirely under continuous direct endoscopic visualization; the endoscope is not just used occasionally or incidentally to check progress. In this respect, full-endoscopic spine surgery is analogous to the familiar and standard-of-care procedures of knee arthroscopy and laparoscopic surgery.
Over recent years, the continued development of innovative instruments and techniques have enabled additional indications to be addressed with full-endoscopic procedures, including those for the cervical and thoracic spine. Many of the surgical techniques outlined here were standardized and then validated in multiple randomized studies* and have been proven with tens of thousands of successfully interventions world-wide.
Advantages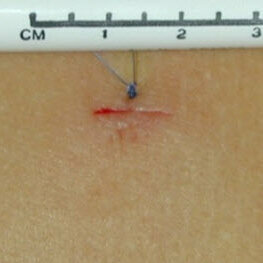 The very small (<1 cm), atraumatic access port means that full-endoscopic techniques are considered as being among the most minimally invasive. Depending on the indication, the majority of patients are generally free of pain immediately post-op and are mobile shortly after the surgery.
With the use of a small diameter access tube, the amount of dissection and closure are minimized, allowing the endoscopic procedure to be performed faster and more efficiently than conventional surgeries. Further, the use of irrigation simplifies the control of bleeding and all but eliminates the risk of infection.
For patients:
Rapid postoperative recovery
Minimal postoperative pain
Quick return to daily activities
Excellent cosmetic result with minimal scarring
Minimal chance of infections
For surgeons:
Excellent intraoperative visualization
Efficient and precise performance of operations
High level of patient acceptance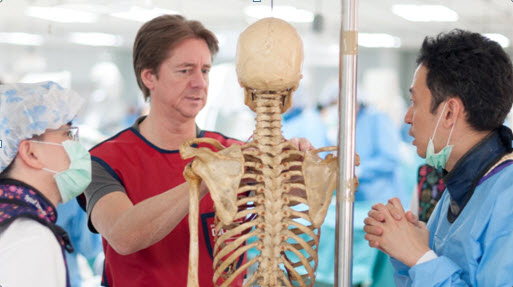 The RIWOspine education program offers excellent opportunities to learn more about full-endoscopic techniques for spine surgery and interventional percutaneous spine pain therapy.
The program is a comprehensive training concept, consisting of different modules that progress physicians toward successful implementation of these innovative techniques in their hospitals or surgery centers.