Richard Wolf, working together with pioneering spine surgeons, was the first company to develop a standardized approach to full-endoscopic decompression of lumbar spinal canal stenosis. The Central Stenosis instrument set represents a true milestone of innovation and advancement in spine endoscopy.
A larger endoscope with a correspondingly larger working channel and larger, stronger instruments were necessary for the more extensive bone and ligament resection necessary for this operation. The VERTEBRIS stenosis instrument set is complemented by the universal motor system and a variety of rigid and articulated burrs.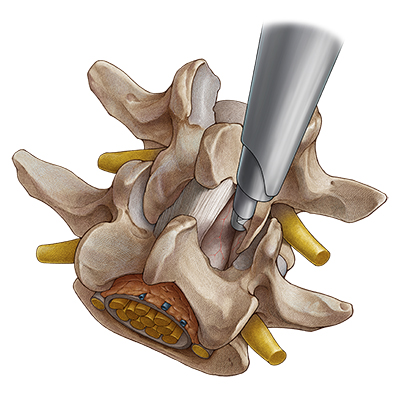 In central stenosis surgery, access to the spinal canal is through the posterior interlaminar window. The dilator is guided directly to the ligamentum flavum or facet joint. After placing the working sleeve over the dilator, the operation is performed through the high-resolution endoscope under continuous irrigation. The laminae and medial facet are resected and the ligamentum flavum resected on the ipsilateral side, with the option to address the contralateral side through an "over the top" technique. The design of the system is optimized to provide full functionality of instruments under exceptional visualization, but with a narrow profile that minimizes trauma to the soft tissues and neural structures.
Several specialized manual instruments and a variety of high-speed burrs are available with the stenosis set. Large diameter (5.5 mm) Kerrison punches and burrs provide for fast resection of the laminae and facet under full-endoscopic view.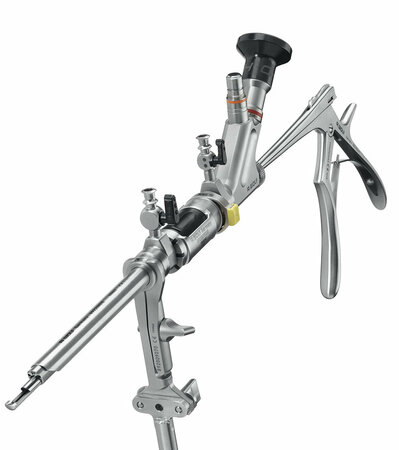 High resolution endoscopes with shorter working length, larger diameter working channel, and increased irrigation rate for full-endoscopic interlaminar approach stenosis surgery.
Endoscope adapter to control the distance between endoscope and working sleeve for more ergonomic operation.
Optimized ratio of large working channel (5.6 mm) to outside diameter (10.5 mm) for least invasive access trauma and highly effective operation.
Fluid management optimized by engineered dimensioning of inflow and outflow preventing neural compression by high pressures of the irrigation fluid.
Working Sleeves with atraumatic distal design to protect neural structures.
Stable grasping forceps and punches with overload protection and shorter working length for interlaminar approach.
Large diameter (5.5 mm) bone punches and Kerrison punches for rapid and precise manual bone removal.
Endoscopic high-speed drill system with a variety of large diameter reusable burrs for mechanical bone resection of laminae and facet.
TipControl RF electrodes for high frequency coagulation and hollow tip RF probes for large scale tissue coagulation and ablation.
Radiofrequency Surgical System Burrs and Shaver System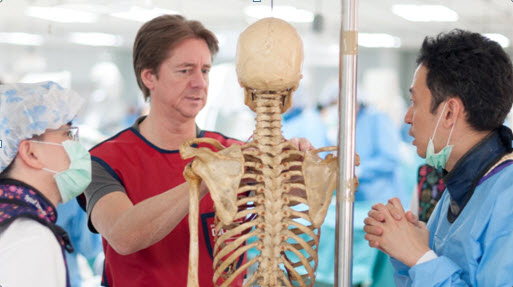 The RIWOspine education program offers excellent opportunities to learn about full-endoscopic techniques for spine surgery and interventional percutaneous spine pain therapy.
The program is a comprehensive training concept, consisting of different modules that progress physicians toward successful implementation of these innovative techniques in their hospitals or surgery centers.