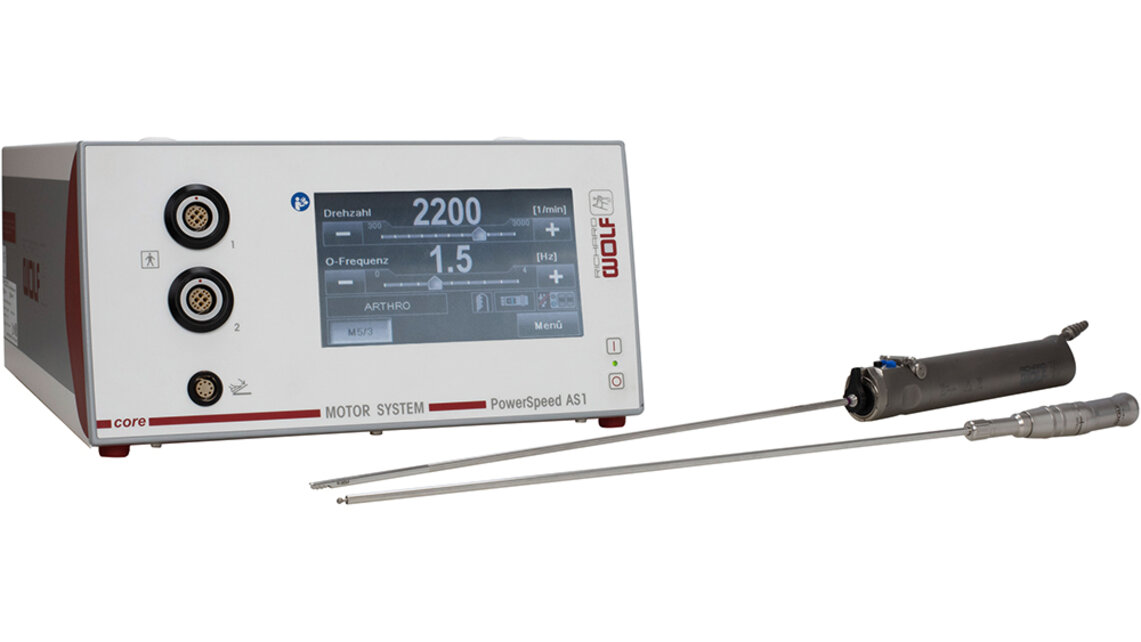 The expansion of indications for full-endoscopic techniques to treat conditions ranging from disk herniations to bony spinal canal stenosis requires efficient bony and soft-tissue resection.
The powerful PowerSpeed AS1, M5 motor and High-speed handpieces, and associated burrs and resectors meet this requirement.
A wide range of sterile and reusable burrs are available for every application and every surgical need. Several innovative burrs and shavers have been developed specifically as integral parts of many of the VERTEBRIS instrument sets.
NEW PowerSpeed AS1 Motor System
The PowerSpeed AS1 universal motor system for surgical intervention on the spine combines power and speed at once. In combination with the use of various motor handpieces and tools the PowerSpeed AS1 provides fast, powerful and reliable resection and drilling of bone and soft tissue at the spine.
One of the innovations is the special developed bluetooth foot-switch, which can be used as a wireless connection to PowerSpeed AS1-Control unit.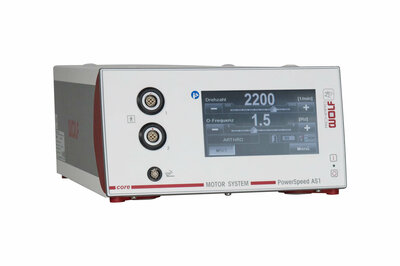 Modern, intuitive operation via touchscreen
Wireless bluetooth foot-switch
Tool recognition by RFID chip
Integrated communication interface to FLUID CONTROL Arthro 2204
Use of shaver and high-speed handpieces possible
Additional control and operation via core nova OP integration
Universally applicable for spine surgery, bronchoscopy and arthroscopy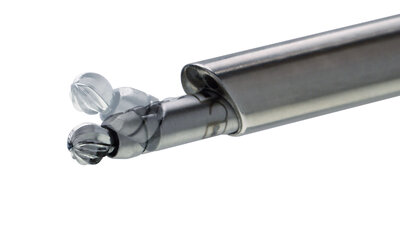 A key benefit of endoscopic surgical procedures for the spinal column is that the angled direction of view enables users to "look around corners" and this permits greater visualization over a larger area during an operation. It is absolutely crucial that the working instruments (and abrading instruments) can be adjusted and angled to the match the field of view in order to perform efficient interventions during endoscopic procedures.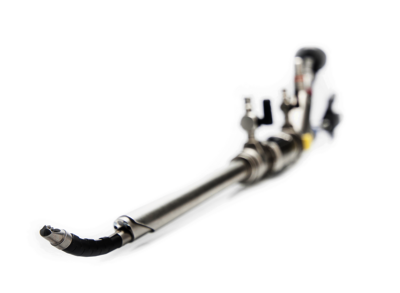 TipControl Nucleus Resector
The new deflectable TipControl Nucleus Resector is used for efficient resection of disc material in the lumbar spine.
This disposable resector blade connects to the M5 handpiece, and a robust mechanism allows a lever at the handpiece end to actively deflect the distal tip. This allows the resector to reach much of the disc space, and much of the nucleus tissue can be readily removed. The oscillating mode of the M5 motor handpiece allows effective resection of stronger disk material, while the connected suction facilitates its evacuation.

Sterile Disposable Burrs and Nucleus Resectors
Disposable instruments for optimized abrading and resection performance in challenging full-endoscopic operations deliver time savings with maximum precision.
New design in the sheath area of the burrs enables the system to provide continuous extraction at the PowerStick M5 motor handle without any risk of sensitive soft-tissue structures being sucked into the rotating burr.