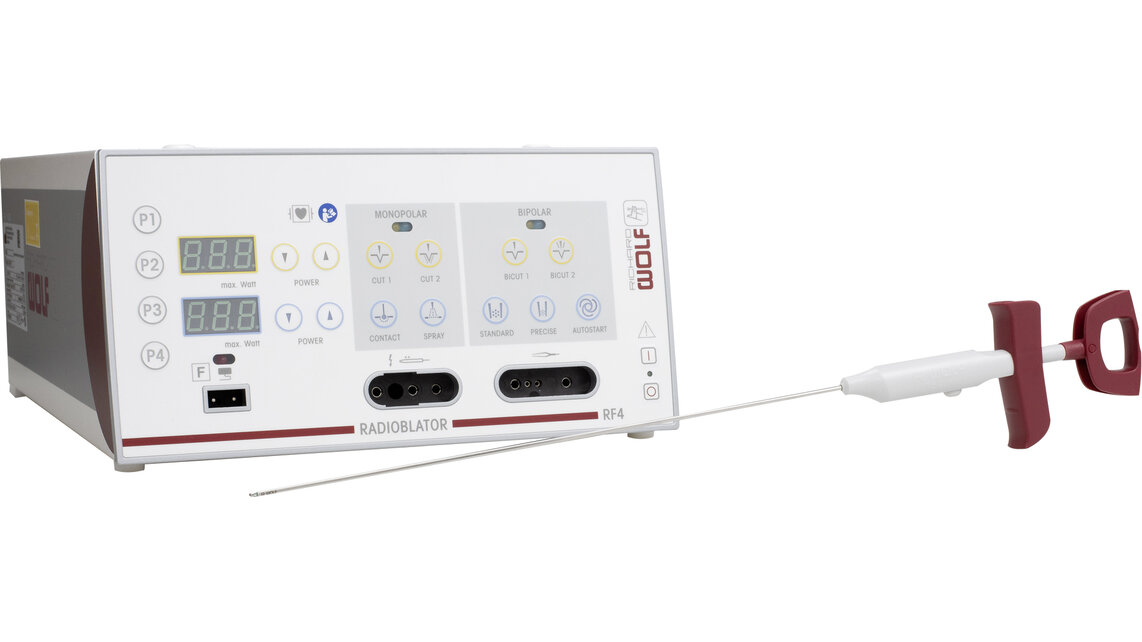 Precise and tissue conserving
The Radioblator RF4 Radiofrequency Generator with a working frequency of 4 MHz is the centerpiece of an effective tissue-preserving coagulation system. By comparison with standard radiofrequency devices supplied commercially in the marketplace, the electricity frequency of the Radioblator RF4 is approximately 10 times higher.
While safe coagulation and ablation of the tissue can be achieved at the electrode through contact with the tissue, neighboring areas of tissue experience significantly less heat. The occurrence of thermally induced tissue necrosis and irritations in adjacent nerves are thereby minimized. The actively articulating TipControl RF Electrode facilitates the controlled posi-tioning of the radio frequency application in the tissue.
Lateral thinking round corners – the TipControl Concept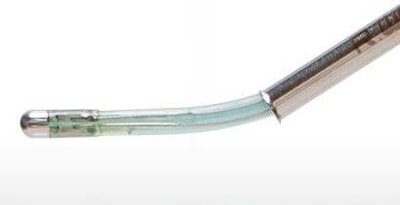 TipControl instruments can be articulated at the distal end. They are used especially in full-endoscopic operations on the spine in order to achieve adequate scope of movement through minimally invasive ports to the operating site.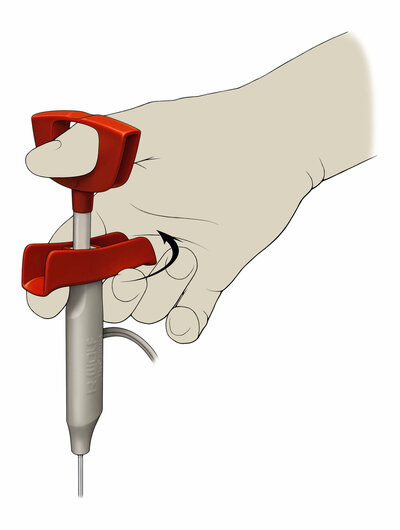 TipControl RF Instruments
Precisely focused 4Mhz radiofrequency technology for full-endoscopic surgery on the spine. Your advantages in function and ergonomics:
360° rotation without changing hand position
Ergonomic handle shape for optimum control in all full-endoscopic approaches
Thumb ring provides secure hold and control
Customized working lengths for interlaminar and transforaminal applications
Articulated tip allows precise and targeted use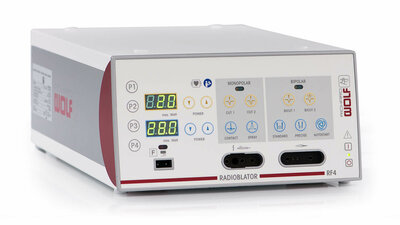 The precisely focused effect of the 4 MHz technology to conserve peripheral tissue makes the Radioblator RF 4 MHz ideal for applications close to sensitive structures, as necessary in e.g. neurosurgery and spine surgery. The complete radiofrequency surgery solution offers efficient vaporization, gentle coagulation and a range of cutting modes in monopolar or bipolar operation.